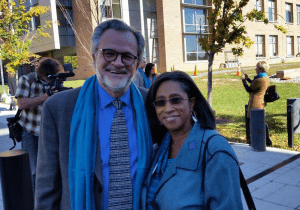 On October 27, the Food and Drug Administration conducted a patient-focused public meeting on female sexual dysfunction (FSD), with a special focus on female sexual interest/arousal disorder (FSIAD). The meeting included personal stories from patients on the impact of FSD on their lives and relationships as well as comments from advocates on the need for more treatment options.
ASHA's VP of Health Policy, Deborah Arrindell, pictured at left, was among those at the meeting to offer comment and urge the FDA to provide more options for women suffering from FSD. You can listen to Deborah's comments (and the enthusiastic applause that follows) below.
Transcript of Deborah Arrindell's Comments
Good afternoon. I'm Deborah Arrindell with the American Sexual Health Association. Our organization was established in 1914 when women were largely considered vixens, vectors of infection, and maybe vamps. It's wonderful that we've come to the point where we can begin to talk about women having healthy sexual lives. That women have a right, perhaps, to desire, arousal, even pleasure. So we really appreciate that the FDA has today given organizations like mine and people like me an opportunity to hear from patients—things that I have only read about.
What I've heard is despair, anxiety, loss of confidence, loss of self worth, troubled relationships, and families in crisis. And sexual health, we believe, is basic human right. What we've heard is that women will try everything, including, quote, "some things I don't even remember the names of." And indeed, I believe that for some women, chocolate, strawberries, and certain episodes of Grey's Anatomy can make a difference. But for many other women, that is simply not the case. We heard that for some women, a month in the Caribbean will not do the trick. Not being able to have sexual desire will only add to anxiety there.
So I believe that sexual health is a basic human right and those are the women for whom we ask the FDA to provide some options. We don't want a magic pill. We want an opportunity for those women and their providers to together figure out what's right for them and what might work.
I believe that deeply buried in the Constitution there must be a basic right to healthy sexuality. I'm gonna go with the pursuit of happiness. Thank you.