As rates of sexually transmitted diseases (STDs) among racial and ethnic minorities continue to rise, local health departments and community-based organizations are continuously exploring effective methods of reaching these populations with sexual health messaging and education. Effective use of social media and social marketing techniques can increase dissemination and reach of health promotion messages targeting sexual and reproductive health (SRH) in underserved populations. One such population is African-American men.
In 2016, African-American men experienced the highest reported rates of primary and secondary syphilis and gonorrhea across all other races/ethnicities and genders, as well as the highest rates of chlamydia among all other racial/ethnic groups. Improving and addressing male SRH needs, particularly in adolescent and young adult populations, are concrete objectives in Healthy People 2020. The benefits of addressing male SRH contribute to improving the lives of individual men and boys, but also extend to their partners, children, families and communities. Yet, compared to female SRH needs, men – particularly heterosexual men – receive minimal attention in literature, clinical health services, and community-based and population health interventions. Additionally, limited guidance exists on effectively reaching African-American men with SRH health promotion messages.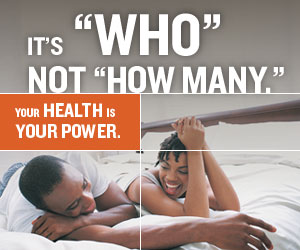 Health is Power (HisP), a social marketing campaign created by the Centers for Disease Control and Prevention (CDC) Division of STD Prevention (DSTDP), was specifically designed for heterosexual African-American men, ages 18-30. The campaign seeks to promote positive sexual behaviors through a multi-phased campaign with strength-based messaging around increased condom use, healthy relationships, STD testing and prevention, and open partner communication. The "Health is Power Toolkit" provides various health promotion tools including customizable posters, postcards, social media messages, web banners, and "drop-in" website articles. The availability of these resources allows for further dissemination of the HisP messages along with the option to further evaluate the efficacy of HisP messages within local communities.
In 2016, the National Association of County and City Health Officials and CDC DSTDP partnered with Louisiana Public Health Institute (New Orleans, Louisiana), CCM Foundation (Houston, Texas) and Baltimore City Health Department (Baltimore, Maryland) to conduct demonstration site projects focused on implementing and evaluating local HisP campaigns. Demonstration sites adapted and expanded HisP messages and materials to meet the needs of their local target audience, developed customized implementation plans, and evaluated campaign reach and effectiveness. NACCHO provided technical and capacity-building assistance on effective implementation and evaluation of local HisP efforts. The HisP demonstration sites will finish implementing and evaluating their campaigns by the end of June 2018. Over the next few months, NACCHO will be highlighting the results of this demonstration site project on their website. Stay tuned for detailed information regarding HisP implementation and evaluation results.