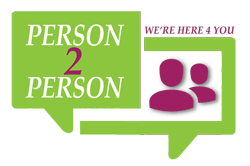 Got a question? We've got answers!
How long have I had HPV? Did he give me genital herpes? What is trichomoniasis and how did I get it? How do I tell her I have herpes?
We get it, you have questions. So why not ask an organization that has 100 years of experience in talking about sexually transmitted infections (STI) and was among the the first to offer a STI helpline more than 35 years ago.
You can now speak with ASHA staff and get your questions answered by phone or chat with no wait. This is all possible through a new premium service offered by ASHA called Person2Person. Person2Person puts you in the driver seat on when you talk to our staff and for how long. Watch the video to the right to learn more about it.
The service is being offered at a price of only $20.00 for 20 minutes, phone or chat. If you need more than 20 minutes, no problem—simply purchase more time.
Sign up is as easy as 1, 2, 3:
Choose an appointment time using the calendar below.
Pay for your appointment.
On the day of your appointment, either
call the number provided in your confirmation email
or
follow the instructions provided in your confirmation email on accessing ASHA's private Person2Person chat
Try Person2Person today!
Meet Our Health Communication Specialist
Fredo
"Whether they know it or not (and most don't), almost everyone who has sex will have a sexually transmitted infection at some point. That's not a typo. Focusing primarily on HPV and herpes for 17 years, I know the value of plain-language and honest discussions."
Make an Appointment
Please note: All appointment times are Eastern Time. If you are in a different time zone, please be aware that your appointment time reflects Eastern Time.
Terms and Conditions
Preparedness
Please make sure to have your questions ready beforehand. This ensures the call remains productive and you get the most out of our service.
Calling in and Missed Appointments
At your schedule appointment time, please call the service at the number provided in your confirmation email. To confirm your identity, please provide your appointment date, time and initials (first and last). If you miss your appointment, we will only reschedule the appointment once. After two missed appointments you forfeit your payment and must purchase another appointment to speak with a HCS.
Time Zone
Please note appointment times are listed as Eastern Time.
Time Allocation
Time is purchased in 20 minute increments. Talk time with a health communication specialist may not exceed the time purchased. If the conversation with the HCS is less than purchased time, the remaining minutes will not be refunded. An individual may purchase more than one time slot.
Age Restrictions
This service is intended for those at least 18 years or older. Persons under the age of 18 should not use this service. If you are underage and have purchased time please contact us for a refund (see refund policies below for additional information).
Nature of the Call
While we do understand the topics covered by this service may be sexually explicit, we reserve the right to terminate any call deemed sexually inappropriate. This service is available for educational purposes only. It is not a service to be used for sexual gratification. We also reserve the right to report to authorities any notification of sexual activities with minors by an adult. Calls meeting these criteria are not eligible for a refund.
Medical Advice
This service provides information for educational/informational purposes only. The information provided may not be construed as medical advice. Health Communication Specialists will not interpret test results nor advise you on your medical care. You are encouraged to discuss the information provided with your healthcare provider.
Credit Card Charge
Charge will appear as "ASHA" on your credit card statement.
Refund
Please contact ASHA via email when requesting a refund. In your request please include the refund reason. We will review and grant refund requests on a case by case basis
Contact Us
ashacustomerservice@ashasexualhealth.org