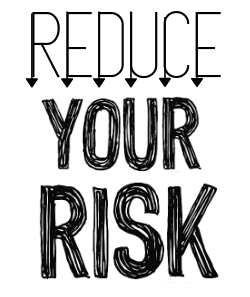 There are inherent risks in everyday life. Being sexual with someone also carries risks—risk of rejection, of unwanted pregnancy, of contracting a sexually transmitted disease/infection (STD/STI) or even a simple cold. Here we will examine some of the things you can do to assess your own risks and benefits so that you can enjoy the benefits important to you while decreasing your risk of contracting an STD/STI, having an unwanted pregnancy, or being coerced into sexual activity.
Decide on Your Boundaries
It is not possible to make an accurate, generalized statement about the "ideal" number of partners or the "absolute- best" choices to make about condoms, barriers, and other forms of birth control. However, by talking to your partner(s), it is possible to make the "best" decisions about protection and birth control for you. There may be no "best" way for everyone, but there are some choices that will work better for you and your partner(s) than others. 
When deciding on their boundaries, people may consider such things as:
religious beliefs

cultural standards

 personal desires and comfort levels

 the type of relationship in which one is involved

 the level of trust

communication and commitment within a relationship

the physical and emotional benefits of sexual choices

 the physical, emotional and risks of sexual choices

the emotional perceptions of actual physical risks
Before sexual activity, it is important to establish boundaries for yourself, share your boundaries with your partner, and listen to your partner(s) about his or her boundaries. This is crucial in make sure you are engaging in consensual sex. One important part of consent is making sure you are abiding by your partner's comfort level in protecting against STIs, birth control, and sexual acts. Here's an example: You and your partner are having sex after you bothst boundaries and agree to use a condom. Midway through sex, you partner takes off the condom without telling you. Your consent to sexual activity was dependent on using a condom. Since your boundaries were violated, the sex became unconsensual. To learn more about consent, visit this page of our website. 
A Few Questions to Consider
What are your reasons for choosing to have sex? What are the "benefits" you are hoping to enjoy? (Physical health benefits? Pleasure? Emotional connection? Fun? Spiritual connection?)

When and how often will you be tested for sexually transmitted disease/infection (STD/STIs)?

When and how often do you want your partners to be tested for STD/STIs?

Which sexual activities are you willing to try? Which are you unwilling to do? Which might you be willing to try in some situations and/or with some partners but not others?

What barriers do you want to use? Under which circumstances?

What barriers and other precautions do you want your partner(s) to use when being sexual with others, if you are in a sexually non-monogamous relationship?

Are you willing to risk a possible pregnancy? If not, what method of birth control will you use?

Do you have a plan of action that you intend to follow if, in spite of precautions, you are faced with an unwanted pregnancy, or an STD/STI?