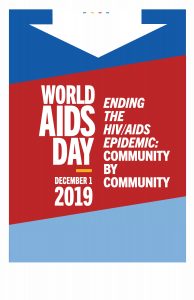 World AIDS Day takes place each year on December 1st. The annual observation is held to bring attention to the global impact of HIV/AIDS. The Centers for Disease Control and Prevention estimate that an approximate 1.1 million people are living with HIV and 1 in 7 don't know it. More than 36 million people around the world are estimated to be living with HIV.
The theme for 2019 is "Ending the HIV/AIDS Epidemic: Community by Community." You can keep up with World AIDS Day on Social Media by following #WAD2019.
If you want to learn more about World AIDS Day you can check out HIV.gov, and keep up with what is happening internationally at Rock The Ribbon.
A great way to honor #WAD2019 is by learning more about HIV prevention and awareness.