Note: Knowledge about Zika virus and health complications associated with infection is still evolving and this page will be updated as new information is released. Content on this page was last updated June 26, 2018.
Zika is a virus that is passed on to humans through the bite of an infected Aedes species mosquito. Once infected, a person can pass on Zika through sexual activity–including vaginal, oral and anal sex and the sharing of sex toys. Zika can also be passed on by a mother to her fetus during pregnancy, and Zika infection during pregnancy has been linked to a serious birth defect called microcephaly as well as other poor pregnancy outcomes.
You've likely heard about Zika virus in the news of late. While Zika was first identified in human in 1952 in Uganda, it has been largely unknown in the U.S. until recently. A Zika outbreak that was first reported in Brazil in 2015 has now spread to several countries in South America and the Caribbean. Zika is not common in the U.S. at this point and while local mosquito-borne Zika virus transmission has been reported in the U.S. in previous years, no such cases have been reported in 2018 through late June.
Sexual Transmission of Zika
Zika can be passed through vaginal, oral and anal sex, even if the person does not have symptoms at the time. It can be passed from a person with Zika before their symptoms start, while they have symptoms, and after their symptoms end. Recent evidence suggests that Zika can also be transmitted sexually even if a person has no symptoms. The CDC reported on a case in 2016 where Zika was likely transmitted sexually from a man to his female partner, even though they man displayed no symptoms of infection. Condoms—including both male and female condoms—can reduce the chance of getting Zika from sex.
The Centers for Disease Control and Prevention (CDC) offers this pre-pregnancy counseling and guidance for the prevention of sexual transmission of Zika virus:
Consider waiting to get pregnant if you travel or live in an area with a risk for Zika
If only the male partner travels to an area with a risk for Zika: Abstain from sex or use condoms for at least six months to protect against Zika transmission if he has no symptoms (or from the start of his symptoms or the date he was diagnosed)
If only the female partner travals to an area with a risk for Zika: Abstain from sex or use condoms for at least two months to protect against Zika transmission if she has no symptoms (or from the start of her symptoms or the date she was diagnosed)
If both partners travel to an area with risk of Zika: Abstain from sex or use condoms for at least six months
CDC's complete guidance on protecting yourself from Zika during sex is available here.
Symptoms of Zika Infection
Most people infected with Zika don't have any symptoms at all. Those who do might experience mild illness with fever, rash, joint pain, and red eyes as the most common symptoms lasting for a week or less.
Zika and Pregnancy
There have been reports a serious birth defect of the brain called microcephaly and other poor pregnancy outcomes in babies of mothers who were infected with Zika virus while pregnant. But what is still not known is how likely it is that Zika will pass to a woman's fetus, and whether or not an infected fetus will develop birth defects.
The CDC has established the US Zika Pregnancy Registry to collect information about pregnancy and infant outcomes following laboratory evidence of Zika virus infection during pregnancy. As of June 19, 2018 the registry reports 2,465 pregnant women with laboratory evidence of possible Zika infection in the U.S., and 4,879 pregnant women in U.S. territories. The registry also reports 116 infants born with birth defects born to Zika-infected mothers in the U.S., as well as 9 pregnancy losses. The CDC will be following the pregnancy outcomes to learn more about the growth and development of babies whose mothers had Zika while pregnant.
Prevention for Pregnant Women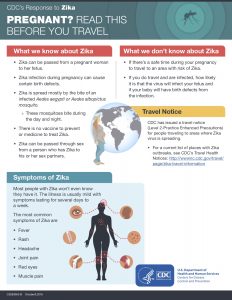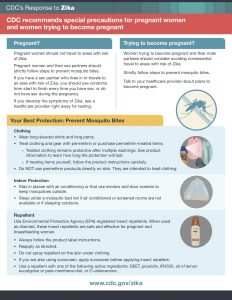 Until experts know more about the nature of Zika virus, the Centers for Disease Control and Prevention (CDC) has recommended that pregnant women not travel to any area where Zika virus is spreading. If you must travel to one of these areas, CDC recommends that you talk to your doctor or healthcare provider first and strictly follow steps to prevent mosquito bites during the trip. CDC also recommends that pregnant women either not have sex during their pregnancy or use condoms consistently if their male partners travel to or live in an area where Zika virus is actively being transmitted. See the CDC website for details on these recommendations.
While Zika is can be transmitted through sex, there are of course a number of infections that are sexually transmitted as well. CDC recommends all pregnant women be tested on their first prenatal visit for chlamydia, gonorrhea, syphilis, and hepatitis B. Read ASHA's page on Women & STIs for more and remember that condoms are a reliable way to prevent STIs and unintended pregnancy. Take a look at these other resources and take charge of your sexual health!