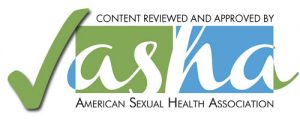 The ASHA Seal of Approval is awarded to websites that are found to:
contain quality information about sexual health and sexually transmitted infections (STIs); and
promote positive messaging around sexual health.
Specific criteria by which websites are evaluated include:
Quality of Information
Accuracy and depth of information
Addressed in a culturally sensitive manner and with appropriate literacy levels
Positive Messaging
The language and overall tone of the site must be respectful and presented in a manner that is free of judgment, blame, and stereotypes.
Technical Issues
Site navigation should be easy and intuitive
Search functions work properly and return helpful results. Contacts should be available and clearly labeled regarding technical assistance, general information and feedback.
For questions or feedback regarding the ASHA Seal of Approval please contact Fred Wyand.