In honor of National Condom Month, ASHA asked our colleagues at the Center for Health and Gender Equity (CHANGE) to help us educate about female condoms. Kate Segal (Sexual and Reproductive Health and Rights Policy Analyst, Global Health Corps Fellow) and Beirne Roose-Snyder (Director of Public Policy) share their thoughts on this woman-centered contraceptive option.
When women and girls dictate a prevention agenda, they account for their own unique prevention and pleasure needs that stem from their lived realities. What technologies exist that can both prevent unintended pregnancy and HIV and sexually transmitted infections (STIs)? Are these products easy to access? Do they make sense for women and girls' bodies? Do they feel good—and maybe even enhance sex?
Woman-centered contraceptive options, which are designed with these questions in mind, promote the right to a safe, full, and enjoyable sex life—one where women and girls can make free and informed decisions about their sexuality without coercion, violence, or discrimination, through access to the information and interventions necessary for their sexual and reproductive health. Plus, sex can be pleasurable. Women and girls want and should have control over interventions that allow sex to be pleasurable for them while reducing unwanted or unintended outcomes.
Female condoms, also known as internal condoms, are one tool that achieves these objectives. They are the only dual-protection method designed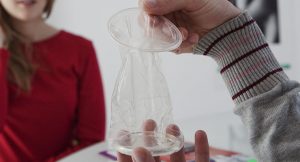 for women to initiate that effectively protects against sexually transmitted infections (STIs), HIV, and unintended pregnancy. They can be used by people of all genders who participate in receptive vaginal or anal sex. Studies have shown that female condoms have pregnancy1 and STI prevention2 rates comparable to male condoms.
Female condoms promote safety, particularly for women and girls. Unlike male condoms, female condoms can be inserted hours ahead of foreplay and intercourse. This feature provides women with options when they may not be able to safely negotiate male condom use, such as sex workers who are at risk of violence or whose clients refuse condom use3, or women who experience intimate partner violence.
For women living with HIV, female condoms are vital to their health and the health of their sexual partners, as they protect compromised immune systems from STIs and decrease the per-act probability of HIV transmission by over 90 percent.4
With the spread of the Zika epidemic, U.S. agencies have recommended including female condoms in Zika virus prevention efforts. While many people in Zika-affected countries know that the Zika virus is spread by mosquitoes, fewer are aware that the Zika virus is also sexually transmissible. Female condoms simultaneously prevent the sexual transmission of the Zika virus, including for pregnant women, and unintended pregnancies for women at risk of contracting Zika.
In addition to practical, female condoms are pleasurable. The outer ring of the condom covers the labia, which can lead to extra stimulation while reducing the risk of transmitting skin-to-skin STIs. Female condoms serve as an essential resource for women to plan pregnancies and have safe, healthy, and enjoyable sex.5
While female condoms should be made widely available among a comprehensive array of contraceptive methods, they face multiple barriers to access. Uptake of female condoms can be difficult to generate due to their unfamiliarity and misuse. According to a 2005 study by the Guttmacher Institute, the female condom slipped out the first time for 11 percent of women. Educating women on how to insert female condoms is essential and empowering.
Availability of female condoms in the United States also remains limited. The FC2 is currently the only female condom brand approved by the U.S. Food and Drug Administration (FDA). But this could change soon. In December, the FDA proposed reclassifying the female condom to a "Class II medical device," the same classification as the male condom. The government agency also recommended changing the name from "female" to "internal." Proponents argue that this move could broaden access to female condoms because they would not need pre-market approval.
Globally, female condoms are often procured in smaller quantities along with male condoms by ministries of health and donor governments, without the necessary investment in programming and demand creation. Otherwise hindered by much of the same stigma and politicization as other aspects of women's sexual health, female condoms can thrive in environments with open discussion of their insertion and use, peer education, and ready access. After all, health commodities don't normalize themselves. With more work and investment in generating excitement around woman-centered options that recognize their diverse needs and experiences, women and girls will be empowered to decide what prevention means to them. Better, safer sex awaits.
[expand title="References"]
[/expand]