The Herpes Testing Toolkit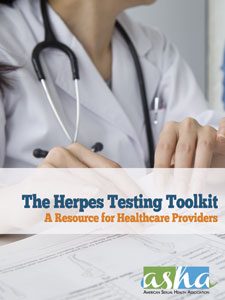 Genital herpes is a common viral infection, but it can be easily misdiagnosed and is often underdiagnosed. Clinicians can best serve their patients by using the correct laboratory test to provide a clear diagnosis along with providing education, reassurance, appropriate antiviral therapy, and resources for additional information and emotional support as needed.
The Herpes Testing Toolkit offers providers summary of evidence-based information and expert opinion about testing and diagnosing genital herpes. This complex and dynamic topic is organized into modules to simplify decision-making, assist with test interpretation and education and counseling.
Q&A on Herpes Testing
With newer, sophisticated DNA tests complementing type-specific blood tests and viral culture, the array of herpes simplex virus diagnostic options is more complex than ever. In this expert Q&A, Leandro Mena, MD, MPH, and James B. Brock, MD, of the University of Mississippi Medical Center explain the best uses of the different tests for herpes that are available to diagnose patients with and without symptoms.
Conversations with Herpes Experts
In this series of videos, H. Hunter Handsfield, MD, professor emeritus at the University of Washington Center for AIDS and STD, and Kees Rietmeijer, MD, PhD, professor at the Colorado School of Public Health, University of Colorado, discuss common questions about herpes, with a specific focus on herpes testing.
Understanding Herpes Testing
Handsfield and Rietmeijer explain the types of herpes tests available, what tests are preferred for those with or without symptoms, and what test to avoid.
Who Should Be Tested for Herpes?
Should more people be tested for herpes to know if they have it? Who should be tested? Handsfield and Rietmeijer discuss these questions.
Herpes and Pregnancy
If a woman with genital herpes has virus present in the birth canal during delivery, herpes simplex virus (HSV) can be spread to an infant, causing neonatal herpes, a serious and sometimes fatal condition. But neonatal herpes is rare, and there are steps a woman and her healthcare providers can take to reduce the risk. Handsfield and Rietmeijer lay out the concerns and discuss prevention steps.
Benefits of Herpes Testing
Are there public health benefits to offering herpes testing to more patients? Handsfield and Rietmeijer look at the possibilities while discussing the increased risk of acquiring HIV and herpes in pregnancy.