ASHA offers high-quality patient education materials on a wide range of sexually transmitted infections(STIs). We are recognized by the public, patients, and providers for developing and delivering accurate, medically reliable information about sexually transmitted infections.
Public and college health clinics across the United States order ASHA's educational pamphlets and books to give to clients and students. Community-based organizations depend on ASHA, too, to help communicate about risk, transmission, prevention, testing, and treatment.
We offer more than 55 different products on such topics as HPV, herpes, HIV/AIDS, chlamydia, condoms and contraceptives, and more.
Books and Booklets
Creating a Sexually Healthy Nation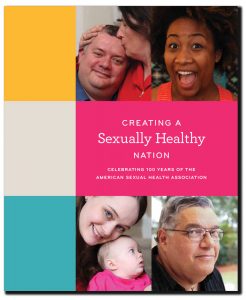 Published in honor of ASHA's 100th year, this new hardcover volume of essays looks at the advances we've made in improving sexual health in the past century, as well as what still needs to be done to create a truly sexually healthy nation. Topics include:

Sexual health and popular culture
The evolution of sex ed
Religion and sexual health
Sex and sexuality as we age
Visit ASHA's online store to download and view the complete table of contents and list of contributors, including Robert Fulliove (Columbia University Mailman School of Public Health), Debby Herbenick (sexual health educator for The Kinsey Institute for Research in Sex, Gender, and Reproduction), H. Hunter Handsfield (Professor Emeritus of Medicine at the University of Washington Center for AIDS and STD), Monica Rodrigez (President and CEO of the Sexuality Information and Education Council of the United States, or SIECUS) and many more.
---
Managing Herpes: Living & Loving with HSV
Charles Ebel and Anna Wald, MD, MPH
Managing Herpes is an essential resource for anyone dealing with genital herpes. This well researched and recently updated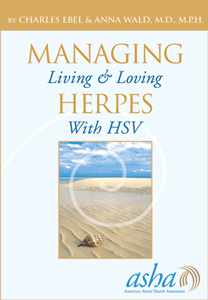 edition provides a balanced, reassuring perspective on the medical and emotional issues surrounding genital herpes. The nineteen chapter volume covers treatment options, transmission, pregnancy, telling your partner, impact on sexuality, longterm relationships, vaccine research, and much more. The latest edition of Managing Herpes is available from ASHA as a digital download for only $7.95.
What readers have to say about Managing Herpes
"When a person is newly diagnosed, they can become overwhelmed with misleading information. Managing Herpes provides a clear overview of the herpes virus, the risks, the treatment options and preventative measures. If you are looking for a resource that explains herpes, this is it!"
—Edward W. Hook, III, MD
---
Color Atlas & Synopsis of Sexually Transmitted Diseases, Third Edition
H. Hunter Handsfield, MD, Clinical Professor of Medicine at the University of Washington Center for AIDS and STD, is a
clinical guide of up-to-date information on diagnosis, tests and treatments for sexually transmitted diseases. The third edition offers an outline presentation that features color photographs of each STD, from the authors extensive personal collection, accompanied by a concise overview of epidemilogy, clinical manifestations, diagnosis and management, and prevention.
While written primarily for the clinician, Color Atlas & Synopsis of Sexually Transmitted Diseases, Third Edition also can serve as a visual aid in counseling patients and will be useful to many health educators, clinic managers, and health administrators. Additionally, this book also is designed in part for persons with STDs or at risk, many of whom will find it useful in understanding their own infections, assessing their risk, or judging the importance of symptoms that may require clinical assessment.