Each April, ASHA recognizes STD Awareness Month. According to the Centers for Disease Control and Prevention (CDC):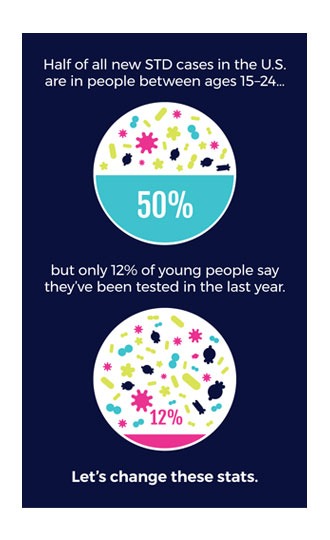 STDs are common, but people may not know they have an STD because many don't have symptoms. But left undetected and untreated, STDs can cause serious health consequences. For example, chlamydia or gonorrhea left untreated can put a woman at risk for pelvic inflammatory disease, a condition that can lead to infertility.
This STD Awareness Month, ASHA is drawing attention to the importance of STD testing. As part of this effort, we are promoting a new campaign—YES Means TEST. Having sex is a choice, and so is saying healthy. Saying yes to sex should mean saying yes to test!
The only way to know if you have an STD to get tested. To learn what tests are recommended for you, you can talk to your healthcare provider and check out our testing page.
STD testing can be confidential and free or low-cost, and common STDs, such as chlamydia or gonorrhea, are usually easily treated with antibiotics. For more information about STDs, YES Means TEST, or how and where to get tested, YESmeansTEST.org. Join the conversation online with #YESmeansTEST.
Talking about Sexual Health
STI Testing
Take Charge of Your Sexual Health
Follow us on Facebook and Twitter for updates all month long. Also join our #STDMonth17 Twitter chat on Tuesday, April 11th at 2:00 pm ET. We'll highlight tons of resources and answer YOUR questions (Tweet them to us @infoASHA).