The Centers for Disease Control and Prevention (CDC) says 2016 was the third straight year of increasing rates for gonorrhea, chlamydia, and syphilis.
The 2016 Sexually Transmitted Disease Surveillance Report released earlier this week, points to the same worrisome trends noted in recent years: nearly 20 million new cases of sexually transmitted diseases (STDs) in the U.S. each year with the most vulnerable populations—particularly young people, women, and men who have sex with men—continuing to endure a significant share of the burden.
ASHA board member and sexual health expert J. Dennis Fortenberry, MD, MS, says "It's important to remember that STDs are an especially obvious health inequity for young people, for marginalized people. This means that STDs are consequences of far more than individual behaviors, and are products of our society's continued inattention to community, to racism, sexual and gender discrimination, and tolerance of violence."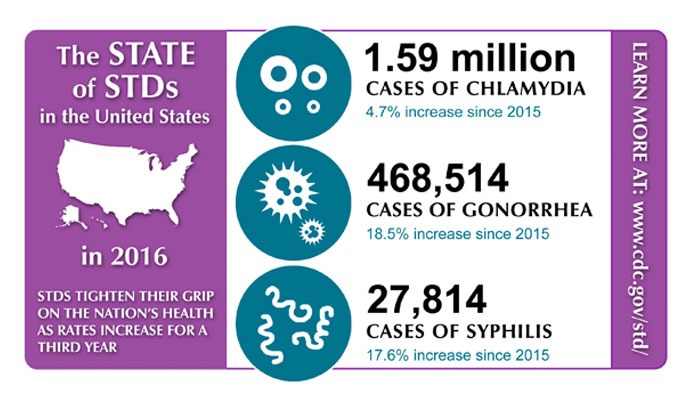 The 27,814 cases of primary and secondary syphilis cases reported in 2016 represents an 18.5% increase over the previous year, with 90% of cases reported in men. Gonorrhea cases in 2016 increased 18.5% to 468,514 and chlamydia incidence rose 4.7% to approximately 1.6 million cases. Both gonorrhea and chlamydia are frequently without symptoms (especially with females); without prompt treatment these infections can cause a number of complications including infertility. Earlier this year ASHA launched the Yes Means Test initiative to increase awareness of STDs and encourage testing. Visitors to Yes Means Test website can utilize a clinic locator to search free/low cost testing services in their area.

Asked for factors driving the epidemic Dr. Fortenberry says a lack of investment in prevention services is key: "Effective public health approaches to STD control require a substantial infrastructure for public health education, surveillance, case identification, and treatment. We have fallen below a threshold of minimal investment and are seeing the predictable consequences."