In July the Centers for Disease Control and Prevention (CDC) released the most recent data on HPV vaccine coverage. The trajectories are certainly moving in the right direction with most measures of the HPV vaccine and adolescents: the number of girls and boys starting and completing the vaccine series increased from 2012 to 2013, with an especially sharp uptick among males.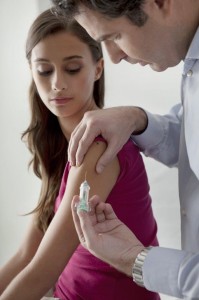 There's still much work to do, though, as the rate of HPV vaccine uptake remains disappointingly low and pales in comparison to the rates at which we're delivering other adolescent vaccines.
In 2013, 37.6% of girls completed all three doses in the HPV vaccine series, compared to 33.4% in 2012. The completion rate among boys jumped from a paltry 6.8% in 2012 to 13.9% in 2013.
In 2013 just over 57% of girls had begun the series of shots and received at least one dose of HPV vaccine, up a bit from 54% the previous year. Boys made the largest leap here, with 34.6% beginning the series compared to only 20.8% in 2012.
What can we do to increase HPV vaccination rates? More frequent recommendation by health care providers is key (and is the single most important factor in getting parents to accept a vaccine for their children). In 2013 just over 64% of parents of teen-age girls reported having their family health care provider recommend the vaccine. Only 42% of parents of boys say their provider recommended the vaccine.
Also there is much to do with reaching out to parents, many of whom still think their child doesn't need the vaccine or isn't at risk for HPV. Some still worry about safety, too, despite the excellent safety record of HPV vaccines in all populations studied.
---
Source: CDC 2013 National Immunization Survey-Teen (NIS-Teen).