If you want to play a vital role in creating a sexually healthy nation then ASHA's Volunteer Ambassador Program is the place for you. Working as an ambassador is super easy but is an extremely important component of ASHA. Twice a week, ASHA Ambassadors are sent content that they can choose to share onto their own social media platforms. This allows ASHA to expand our audience by getting sexual health information out into a variety of social networks that may otherwise never receive it! In addition, we periodically have other opportunities for people to get more involved in the work that ASHA is doing.
To learn more about just how much ASHA Ambassadors are doing, check out the dashboard below!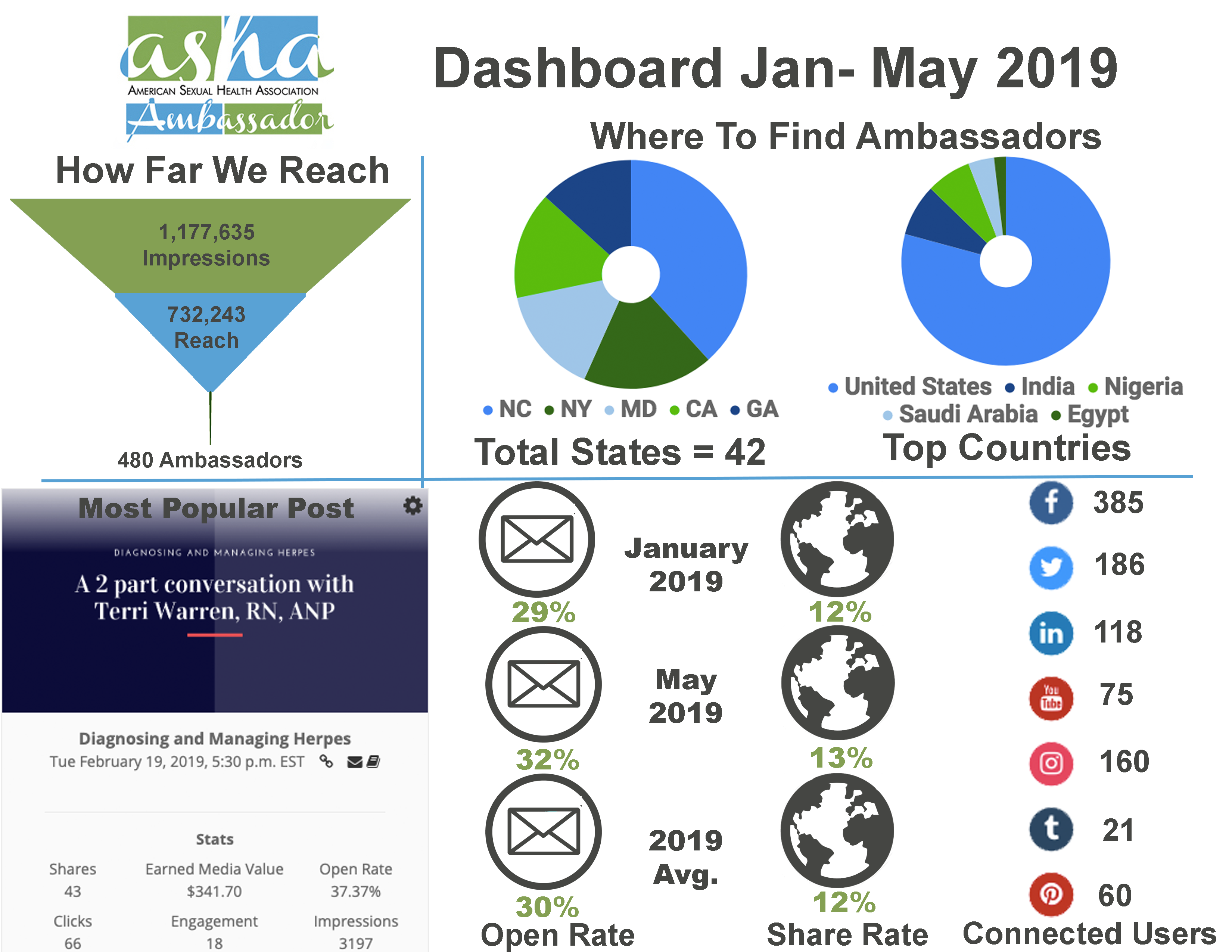 Ambassadors are willing to start conversations about taboo topics and are passionate about creating a sexually healthy nation. They use social media as a platform for sharing important sexual health information. Want to see what ASHA ambassadors are doing? Check out the two ambassador hashtags.

Our sexual health ambassadors represent over 26 different states and more than 20 countries globally. Our ambassadors are a diverse group – each voice adding a new perspective. However they all share a commitment to sharing important sexual health information 
Do you want to be a part of an elite group of sexual health ambassadors? Apply through SocialToaster 
     Click a Social Media network icon (we recommend you sign up with Facebook and Twitter if you have accounts)

     A pop up window will appear that will ask you for your social media account login credentials

     Enter your information and click "Allow Access"

     A form will pop up that will ask you for basic information. Fill out each field and click "Continue"

     You will be taken to your "Dashboard" where you can share information and engage with ASHA's social media accounts
If you are interested in getting more involved with ASHA outside of social media then indicate your interests on the application. Don't have a social media account? Shoot us an email at info@ashasexualhealth.org to get involved.
Some of our desired volunteer skills include: Development: Fundraising and grant writing, community education, health communication via chat or phone,Research, writing, and content development,Marketing: Concepts and development
There are also volunteer opportunities available with our National Cervical Cancer Coalition (NCCC) chapters across the country where you can help educate those in your community about HPV and cervical cancer. NCCC has local chapters across the country, led by dedicated volunteer chapter leaders. If there is a chapter in your area, you can contact your local chapter leader to learn more about what local events or fundraisers are planned and what volunteer assistance is needed. Feel free to let us know you'd like to be a chapter leader at info@ashasexualhealth.org.