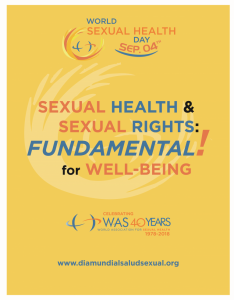 The tenth annual World Sexual Health Day observance – organized by the World Association for Sexual Health (WAS) – takes place on September 4th and the theme for this year's observation is Sexuality Education for all: a bridge to sexual health.
Throughout September, ASHA will offer expanded sexual health resources that include fact sheets, interviews, and perspectives on sexual health from a diverse group of voices in the field.
What exactly is sexual health? We believe sexual health must go beyond traditional views of simply avoiding disease or unplanned pregnancy and should include experiencing pleasure and intimacy when desired along with respecting the sexual rights we all share.  Click here for more on ASHA's definition of sexual health.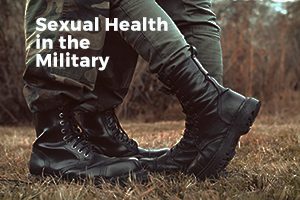 In honor of Sexual Health Month, ASHA is launching new resources for active duty service members, including a video with certified sexologist and intimacy coach Shan Boodram sharing real stories from real members of the military. We've also developed printable materials and a list of resources for service members.
"Just say no" never really worked in curbing substance use and it certainly doesn't help in equipping young people to navigate a world of complicated choices around sex and reproductive health. Too often our sexual education curricula are based on politics rather than science and it's important that you be informed. ASHA's resources for educators include a page of teacher/student voices which make the case for compassionate, accurate, and comprehensive sexual education as not only a necessity, but a fundamental right!  
Sex ed isn't just about kids, though. We're living -and staying active- longer. That means we're having sex well into our Golden Years! That's a good thing but of course there are some challenges to sex as we age. ASHA's guide to Sex After 50 clues you in to what you need to know to remain sexually healthy, active, and satisfied across the lifespan. 
Gender identity sometimes gets lumped in with sexual orientation and sexuality but that is a disservice to, well, pretty much everybody! This all deserves a larger discussion, we believe, so get started with our page on LGBTQ resources including links to advocacy organizations and tips on how we can all be more inclusive and empowering.  

Sexual pleasure –whether with a partner or through masturbation- offers a number of benefits including better sleep, less stress, and feeling good in general. There's a lot to be said for getting' it on and we invite you to explore just how YOU might experience pleasure! 
Talking to a healthcare provider about your sexual health can be intimidating. You might feel embarrassed about the questions that you have; you might not want to admit to certain feelings or fears about your health. However, being able to talk to your healthcare provider about your physical health as it relates to your sexual health is absolutely crucial.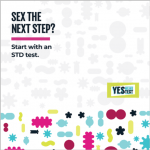 A happy and healthy sex life starts by saying #YESmeansTEST. It's as easy as having a chat with your healthcare provider. They can help you figure out which screenings are right for you. Find free, fast and confidential testing near you. 
You don't even have to buy us dinner. The Quickie is ASHA's latest podcast series looking at current issues in sexual health in a short (less than five minute) format so you can get your fix get a move on. We'll debut a new episode each week during September so stream or download here. 
Week one: "Just say no" is lousy advice for a number of things, including sex! 
Week Two: Sex and Culture on Campus