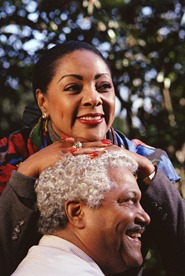 Growing older is a natural and exciting part of life. Just as people age so does the body. Being mindful of the natural changes your body goes through is an important part of learning how to promote your sexual health and the sexual health of your partner.
Natural changes in the body can mean different things for how to protect yourself. Understanding the changes your body is going through can help you have a healthy sex life as you age. Keep in mind that everyone's body is different and may age differently:
Men
Delayed erection
Less semen
Shorter orgasm
Women
Less estrogen can lead to vaginal dryness, which may make intercourse uncomfortable or painful.
Can be less easily aroused, and may be less sensitive to touching and stroking, which can result in decreased interest in sex.
While women leave their reproductive years once they experience menopause, men's reproductive years never end. Men continue to produce sperm (in lesser amounts) as they grow older. So men with younger partners who have not yet gone through menopause must still talk about pregnancy and contraception.
As we age, pregnancy becomes less of a concern with menopause or sterilisation procedures, like  vasectomies, but men and women should still use condoms. Why? Well, although you may be less likely to get pregnant you are still able to get STDs/STIs at any point in your life when you are sexually active– this risk does not go down with age
Imagine this—Helen who is only 60 was married to Stan for more than 30 years when he died. About four years after Stan died, an old friend who Helen hadn't heard from in more than 20 years contacted her. They were always fond of each other so when they both found themselves without a partner, they started dating. Months later, they started sleeping together. Before long Helen felt different, and she was worried. She went to her doctor who tested her and then told her she had HIV. It seems Stan's last partner had HIV and hadn't yet been diagnosed.
According to the CDC, people aged 50 and older accounted for:
15% of new HIV/AIDS diagnoses (People 50 years or older are getting HIV faster than people under 40 years)
24% of persons living with HIV/AIDS (increased from 17% in 2001)
In addition, chlamydia, genital herpes, genital warts, gonorrhea and syphilis among older people have nearly doubled from 1996 to 2003.
You can reduce your risk for HIV and other STDs/STIs:
Limit your number of sexual partners. The more partners you have, the more likely you are to get an STD/STI.
Practice monogamy. This means having sex with only one person. That person must also have sex with only you to reduce your risk.
Make sure you and your partner get tested (before you start having sex).
Use a condom and lubricant every time you have sex.
If you think you may have been exposed to an STD/STI, get treatment.
Do not have sex when you are taking drugs or drinking alcohol because being high can make you more likely to take risks.