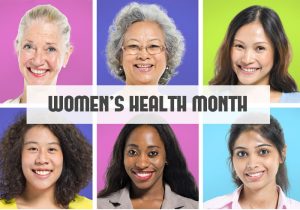 Each year in May we shine an especially bright spotlight on the unique health needs of girls and women. New policies and programs make quality healthcare accessible for millions and we want to make sure you take advantage of all that's available. You deserve to be well cared for in mind and body!
Preventive Care and the ACA
Under the Affordable Care Act (ACA), a number of preventive care health services are now available for women without cost sharing–in other words, noting out of pocket! See which services are covered and learn what it means for you .
Anatomy 101
Have you ever heard anyone use the term, "female plumbing"? Despite the primitive nickname, it's actually a good analogy. Know Your Body gives you the scoop to understand how the system works so you can maintain, rather than repair it.
R-E-S-P-E-C-T
Aretha had it right! Truly good relationships take time and energy to develop, and should be based on respect and honesty. This is especially important when you decide to date someone. While it's important that dating partners care for each other, it's just as important that you take care of yourself! Healthy Relationships gets you started towards the relationships you deserve.
Take Ten
Talking to a healthcare provider about your sexual health can be intimidating. You might feel embarrassed about the questions that you have; you might not want to admit to certain feelings or fears about your health. However, being able to talk to your healthcare provider about your physical health as it relates to your sexual health is absolutely crucial. Ten Questions to Ask has tools for finding the right provider and talking with them once you do.
Sexual Health TV
Sexual Health TV is your one stop for a wide range of sexual health programming including our library of women's health videos. Check out our very newest video, Cervical Cancer Screening Made Simple below.
Expert Advice
Sexual health educator Debby Herbenick of the Kinsey Institute at Indiana University offers expert sex advice on a range of topics on the Kinsey Confidential Podcast. You can listen to a select episodes below.
"I have a slightly enlarged labia and I'm wondering how common this is?"
"My wife prefers her sex toys to me."
"I'm not the right size for my partner and have problems with lubrication. What can I do?"
Debby Herbenick, PhD, is a sexual health educator at The Kinsey Institute, Associate Director of the Center for Sexual Health Promotion at Indiana University and author of several books including Sex Made Easy and Because It Feels Good: A Woman's Guide to Sexual Pleasure and Satisfaction.
Filed in: Sexual health • Women's Health