The World Association for Sexual Health (WAS) is launching its  annual World Sexual Health Day observance on September 4th, and the theme for the 2018 observation is Sexual Health and Sexual Rights are FUNDAMENTAL for well-being. Throughout September ASHA will offer expanded sexual health resources that include fact sheets, interviews, and perspectives on sexual health from a diverse group of voices in the field.
Understanding Sexual Health
What exactly is sexual health? We believe sexual health must go beyond traditional views of simply avoiding disease or unplanned pregnancy and should include experiencing pleasure and intimacy when desired along with respecting the sexual rights we all share. Click here for more on ASHA's definition of sexual health.
Podcast Interview with Eli Coleman
"No matter what one's gender identity or sexual orientation we all have the basic needs of expression of our sexuality, the need for love and bonding."
In this episode of ASHA's Sex+Health podcast, Dr. Eli Coleman, director of the Program in Human Sexuality at the University of Minnesota and a former member of ASHA's board of directors, talks about developing a broader view of sexual health that goes beyond merely having sex with another person.
Ten Questions to Ask Your Healthcare Provider about Sexual Health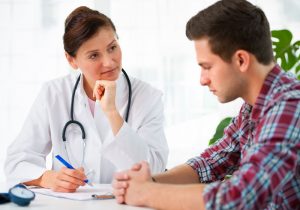 Talking to a healthcare provider about your sexual health can be intimidating. You might feel embarrassed about the questions that you have; you might not want to admit to certain feelings or fears about your health. However, being able to talk to your healthcare provider about your physical health as it relates to your sexual health is absolutely crucial. These ten questions to ask are a great place to start.
YES Means TEST
A happy and healthy sex life starts by getting tested. ASHA's new campaign to encourage STD testing as an important part of sexual health—Yes Means Test—helps explain why testing is sexually health and connect people to local testing resources.
It's as easy as having a chat with a healthcare provider. They can help you figure out which screenings are right for you. Find free, fast and confidential testing near you.
Sex After 50? Yes!
We're living—and staying active—longer. That means we're having sex well into our Golden Years! That's a good thing but of course there are some challenges to sex as we age. ASHA's guide to sex after 50 clues you in to what you need to know to remain sexually healthy, active, and satisfied across the lifespan.
Your Safer Sex Toolbox
Once you have decided on your own "safer sex" boundaries, gather the tools you will need to stick to your decisions. Open ASHA's Safer Sex Toolbox and get to work!
Myths and Facts about Erectile Dysfunction
Think erectile dysfunction (ED) only happens to older men? Think again and get the facts in ASHA's video.
Your Sexual Health Questions Answered
Throughout September ASHA will feature podcasts from sexual health expert Debby Herbenick, PhD, MPH. Dr. Herbenick is a research scientist, Director of The Center for Sexual Health Promotion at Indiana University, and a research fellow at the Kinsey Institute. She also formerly served on ASHA's Board of Directors. These podcasts originally appeared on the Kinsey Confidential website. You can also follow her on mysexprofessor.com and Twitter.