The Herpes Resource Center (HRC) focuses on increasing education, public awareness, and support to anyone concerned about herpes. Since its formation in 1979, the HRC has helped over five million people.
The HRC is here for you! The HRC offers:
Accurate and up-to-date information about herpes
Source for referrals such as local support groups
Voice to increase public awareness about herpes issues through the media
Advocate for responsible national policies for STD treatment and prevention
Understanding Herpes with H. Hunter Handsfield, MD
Herpes expert H. Hunter Handsfield, MD explains the basics about genital herpes, including the difference between genital HSV-1 and HSV-2 infection, testing options and the importance of knowing virus type, and the three-prong strategy for prevention. See more herpes videos at sexualhealthTV.com.
Managing Herpes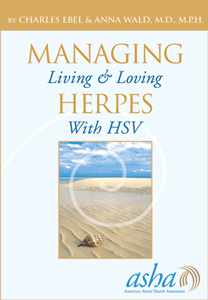 Want to learn about herpes? Newly diagnosed? Then Managing Herpes is a great place to start.
Managing Herpes: Living & Loving with HSV by Charles Ebel and Anna Wald, MD, MPH, is an essential resource for anyone dealing with genital herpes. This well researched and updated edition provides a balanced, reassuring perspective on the medical and emotional issues surrounding genital herpes.
The nineteen chapter volume covers treatment options, transmission, pregnancy, telling your partner, impact on sexuality, longterm relationships, vaccine research, and much more. The latest edition of Managing Herpes is available as a PDF download from ASHA at our secure webstore. Managing Herpes is also available in ebook formats for Kindle (from Amazon) and Nook (from Barnes and Noble).
Here's what readers have to say about Managing Herpes
"When a person is newly diagnosed, they can become overwhelmed with misleading information. Managing Herpes provides a clear overview of the herpes virus, the risks, the treatment options and preventative measures. If you are looking for a resource that explains herpes, this is it!"
–Edward W. Hook, III, MD
More reviews from Amazon
"This is a must read for anyone looking for answers to the most frequently asked questions about HSV. The text is very informative, easy to read and understand."
"This is good reference book for healthcare providers who dx and treat people with Herpes 2 (HSV2). I diagnose at least 2-3 new cases of HSV2 a week. My patients feel devastated by this initial diagnosis. My main resource is the CDC STD Tx Guidelines 2010 that provides the gold standard for medical/clinical treatment recommendations. I was looking for a resource that presented living with HSV on a more personal/emotional level. This book present the clinical and the emotional sides living with HSV2. I highly recommend this book to all health care providers and their patients."
Click here to download a preview of Managing Herpes, including the table of contents and complete first chapter.